Today is the day. After 162-games that made us experience the entire gamut of human emotion, we are at the playoffs, Dodger fans.
Courtesy of the Dodgers official Twitter, here is the roster for the entire NLDS: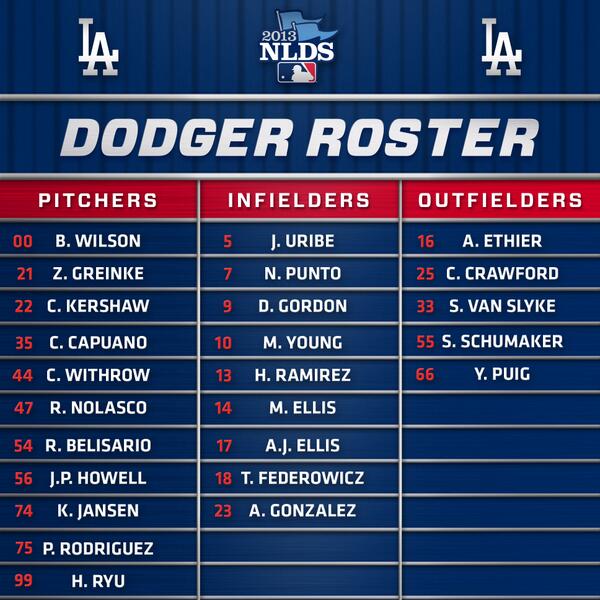 I don't want to say that a lot is riding on this game. After all, it is best of five. But I feel like this first round, specifically this first game, has so many Dodger fans squeamish. Maybe it's because our team is going in banged up. Maybe it's because after a historic run, all would be for naught if The Boys in Blue don't win the whole thing. Just making it to the playoffs isn't enough, nor should it be. However, let us not lose perspective.
If you're a bit nervous, much like I am, that's okay, but fear not. Even without Matt Kemp and Andre Ethier the Dodgers have Puig and Van Slyke to man the outfield. Even a less than healthy Hanley is still dangerous at the plate. Adrian Gonzalez and Juan Uribe (#KingUribe) can still drive in runs while manning the corners superbly. The World Series is for the taking and the Dodgers are not only intent on claiming the crown, they are more than capable.
And now tonight's lineup: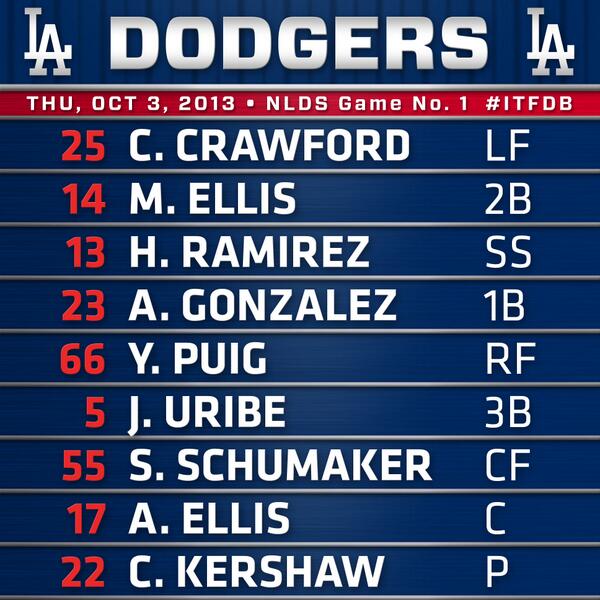 Clayton Kershaw leads the National League in strike outs. Meanwhile, Atlanta has the third highest whiffs in all of baseball this season. Yikes!
Hold fast Piazza Heads!
Game time is at 5:37 and will be shown on TBS.